Yorbeau Acquires Prospective Zinc Property in the Chibougamau Camp

Download PDF version   |   Views all documents on Sedar
MONTREAL, QUEBEC - Dec. 12, 2017 - Yorbeau Resources Inc. (TSX: YRB) (the "Company" or "Yorbeau") is pleased to announce the acquisition of the KB property located in McCorkill township 35 kilometres east of the town of Chibougamau. The property (locally known also as "Kill Bill") is comprised of 30 claims covering 16.7 square kilometres located in the eastern limit of the Abitibi belt of Quebec (Figure 1). The property is easily accessible through an excellent network of logging roads.
The KB project is considered to be highly prospective for zinc and copper due to the presence of an historic prospect and of drill intercepts associated with a massive sulphide stratigraphic horizon hosted within mafic and felsic volcanics. The property appears to have a geological setting similar to that found at Yorbeau's Scott project, including high grade VMS-style mineralization, presence of felsic tuffs, and potential for high synvolcanic heat flow resulting from the proximity of the Lac Doré (synvolcanic) Complex (Figure 1).
To enlarge Figure 1, please click on the following map: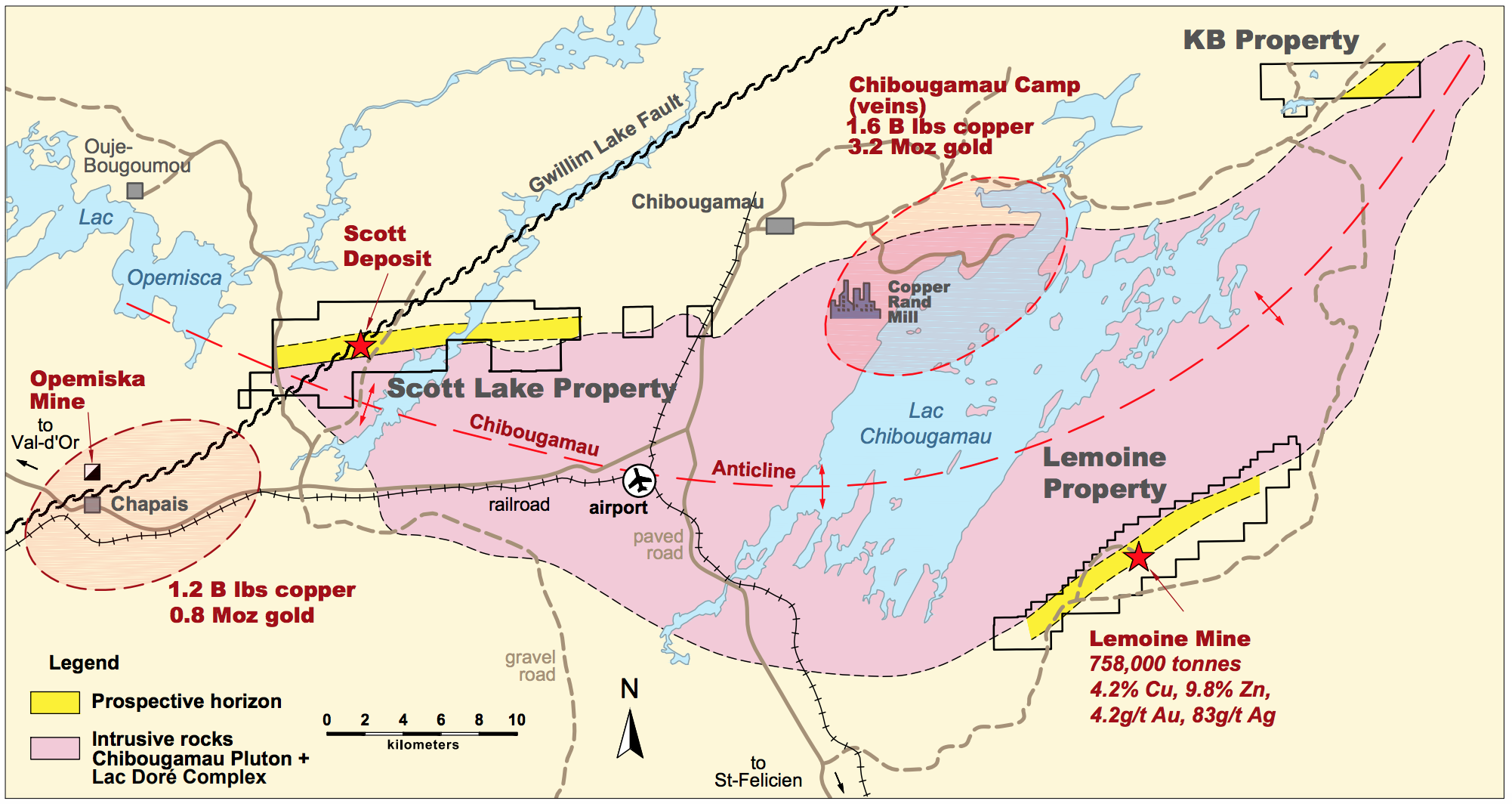 According to Government files, historical drilling done by Icon Sullivan in 1965 yielded up to 1.9% copper and 11.0% zinc over a core length of 1.0 metre of massive sulphides. Recent trenching and channel sampling of the massive sulphide horizon done in 2012 by vendor Ressources Tectonic Inc yielded an average of 1.4% Cu, 8.1% Zn and 51.5 g/t Ag over a thickness of 0.8 metres. A series of grab samples taken from that trench by geological staff of Cogitore Resources in late 2012 yielded similar results with, in addition, an average gold grade of t 2.2 g/t Au. Note that grab samples are selective by nature and values reported may not be representative of the whole mineralized horizon. Individual assays for the Cogitore sampling are shown in the table below:
| sample | %Cu | %Zn | g/t Au | g/t Ag |
| --- | --- | --- | --- | --- |
| 23412 | 2.09 | 11.50 | 0.13 | 51.8 |
| 23413 | 1.05 | 5.73 | 0.05 | 31.9 |
| 23414 | 1.48 | 12.95 | 0.34 | 66.0 |
| 23415 | 0.91 | 6.67 | 8.25 | 72.9 |
| average | 1,4 | 9,2 | 2,2 | 56 |
Mineralization in the above samples consists of banded massive sulphides containing pyrrhotite, pyrite, sphalerite and chalcopyrite.
The KB project was acquired by the signing of an option agreement to acquire a 100% interest from private company Les Ressources Tectonic ("Tectonic"). The option agreement includes total cumulative cash payments of $200,000 and exploration expenditures of $750,000 over a three year period. Except for an initial $30,000 cash payment already made upon signing and the first $150,000 in exploration expenditures, all payments and expenditures are optional. Tectonic would retain a 1% NSR production royalty, which can be bought back entirely at any time for $1.5 million.
Gérald Riverin, President of Yorbeau Resources, commented: "With the current positive outlook for zinc and the recently announced positive Preliminary Economic Assessment at the Scott project, zinc prospects in the Chibougamau mining camp with features similar to the Scott mineralization become strategic for the Company. In spite of local high grade zinc mineralization at surface, the KB project has never been drilled below 150 metres vertical, and has yet to be explored using modern volcanogenic massive sulphides concepts. With the Scott project, our technical team has developed considerable expertise in this type of mineralization in the Chibougamau Camp, and the Company is looking forward to initiate exploration on the new project."
Yorbeau is currently planning an exploration program on the KB property that is slated to begin in the first quarter of 2018. The forthcoming program will include an airborne geophysical survey followed by field reconnaissance and possibly some trenching prior to drilling.
The samples taken by Cogitore in 2012 were shipped in sample bags to the ALS Chemex laboratory in Val d'Or, Québec for sample preparation and analysis with appropriate standards, duplicates and replicates used for quality control purposes.
Mr. Gérald Riverin, PhD, P. Geo., a qualified person (as defined by NI 43-101), has reviewed and approved the content of this release. (Note: some of the former Cogitore staff involved in the sampling are now part of the Yorbeau team and the Company has access to all the previous Cogitore sampling data and assay certificates). The sampling done by Cogitore in 2012 was done by Francis Lefebvre, P.Geo., under the supervision of Sylvain Lépine, P.Geo, now an employee of Yorbeau.
About Yorbeau Resources Inc.
The Company's 100% controlled Rouyn Property contains four known gold deposits in the 6-km-long Augmitto-Astoria corridor situated on the western half of the property. Two of the four deposits, Astoria and Augmitto, have substantial underground infrastructure and have been the subject of NI 43-101 technical reports that include resource estimates. In 2015, the Company expanded its exploration property portfolio by acquiring strategic base metal properties in prospective areas of the Abitibi Belt of Quebec and Ontario that also feature infrastructure favourable for mining development. The newly acquired base metal properties include Scott Lake which hosts important mineral resources and on which a positive Preliminary Economic Assessment was recently completed.
More information on the Company may be found on the Company's website at www.yorbeauresources.com.
Forward-looking statements: Except for statement of historical fact, all statements in this news release, without limitation, regarding new projects, acquisitions, future plans and objectives are forward-looking statements which involve risks and uncertainties. There can be no assurance that such statements will prove to be accurate; actual results and future events could differ materially from those anticipated in such statements.
Contact information
Yorbeau Resources Inc.
Gerald Riverin, Ph D., P. Geo
President
819-279-1336
griverin@yorbeauresources.com
G. Bodnar Jr.
Vice President
514-384-2202
gbodnar@yorbeauresources.com
Toll free in North America: 1-855-384-2202